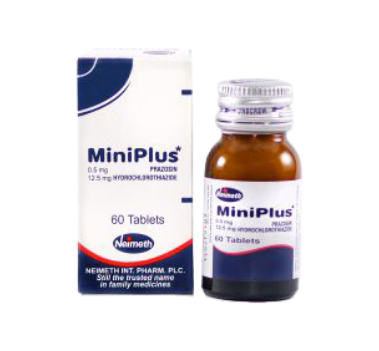 Miniplus is a brand of antihypertensive (prazosin Hydrochloride and Hydrochlorothiazide in combination). It contains prazosin 0.5mg and Hydrochlorothiazide 12.5mg.
Management of moderate hypertension
The prazosin component in Miniplus affords an added advantage of symptomatic improvement of co-morbidity with Benign Prostatic Hyperplasia (BPH).
Prazosin is a specific alpha-1 blocker.
Locally manufactured.
Does not compromise circulatory dynamics.
Readily available.
Directions
1 tablet twice daily. Dosage may be increased to 2 twice daily to get desired results.
…. The antihypertensive tailored for the black patient.
Other Products