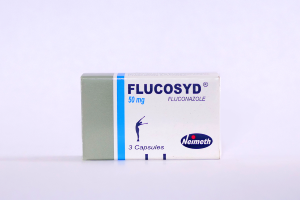 Flucosyd is a broad spectrum oral anti-fungal agent in capsule form. It has Fluconazole as an active constituent which belongs to the Azole class.
Vaginal candidiasis.
Systemic candidiasis.
Oropharyngeal/Oespharyngeal candidiasis.
Prophylaxis of fungal infections.
Single dose therapy
Systematic action
Rapid symptom relief.
Highly cost effective.
Improves compliance.
Ensures high cure rate and prevents reoccurrence.
High degree of patient satisfaction.
Affordable for patient.
Directions
Vaginal candidiasis: 150mg oral capsule as a single dose.
Dermatophytosis: 50mg oral capsule daily for 14 – 28 days or 150mg oral single dose weekly for 6 – 8 weeks.
Oropharyngeal/Oesophharyngeal candidiasis: 100mg stat orally, then 50mg daily for 14 days.
…..1st dose, final dose in vaginal candidiasis.