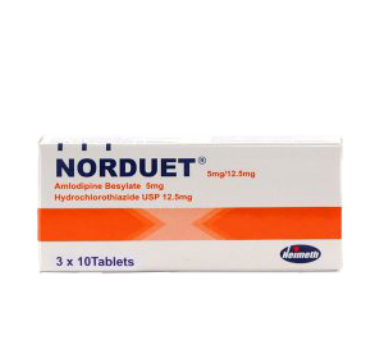 Norduet is an antihypertensive drug containing Amlodipine Besylate 5mg/7.5mg in combination with Hydrochlorothiazide 12.5mg, thus providing a novel and logical combination therapy in the management of hypertension in blacks.
Effective management of moderate hypertension.
Management of pedal oedema associated with the use of calcium channel blockers alone.
A combination of a calcium channel blocker and diuretic.
Amlodipine has long half-life 35 – 50 hrs.
Novel synergy: effectively tackles HBP by targeting the different hemodynamic abnormalities in HBP (CO & TPVR)
Sustained duration of action and enhances round the clock protection.
Directions
Initial dosage 5mg/12.5mg, if required may be increased to 7.5mg/12.5mg once daily.
…. novel and logical combination for the black hypertensive.
Other Products