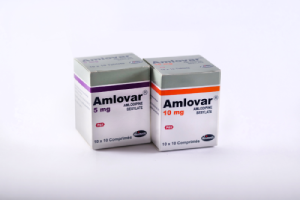 Amlovar belongs to the class of drugs called Calcium Channel Blockers (CCBs). It contains Amlodipine besylate as its active constituent. It is presented as 5mg and 10mg tablets.
Management of high blood pressure and angina pectoris.
Amlovar inhibits the influx of extracellular calcium ions into the vascular smooth muscle, this action causes vasodilatation (relaxing of the smooth muscle of the blood vessels) with resultant reduction in blood pressures through a decrease in Total Peripheral Vascular Resistance (TPVR).
This mechanism of action extends to the coronary vessels (artery supplying blood to heart muscles) bringing about its relaxation and consequent relief of angina pectoris.
Extended duration of action due to the long half-life of 35 – 50 hrs.
Predictable bioavailability.
Provides overall safety for use.
Gradual onset of action/smooth vasodilation.
Attenuation of the early surge in blood pressure- maintaining normal circadian variation.
Missed dose protection.
True once-daily dosing, enhanced patient compliance with low peak to trough variation.
Predictable clinical response.
Assured efficacy.
Minimizes rapid vasodilation associated with other calcium channel blockers.
Directions
initial dosage of 5mg, if required the dose may be increased to 10mg once daily.
….bridging the gap in hypertensive therapy.
Other Products