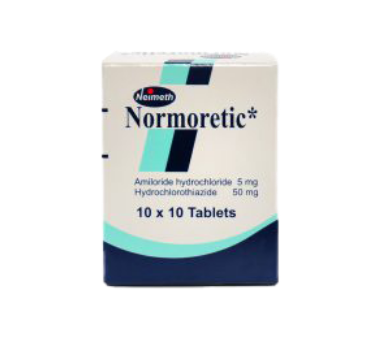 Normoretic is a combination of Amiloride Hydrochloride 5mg and Hydrochlorothiazide 50mg. they belong to the class of antihypertensive known as diuretics or water pills.
Management of moderate hypertension.
Ideal for use in black hypertensives due to genetic predisposition and slow elimination of sodium.
Normoratic comprises Amiloride (potassium-sparing diuretic) and Hydrochlorothiazide (a thiazide diuretic).
Normoretic is well tolerated.
The combination of Amiloride and Hydro-chlorothiazide provides a synergistic effect.
It can be sued by a wider range of patients.
It lowers blood pressure through controlled diuresis.
Directions
1 or 2 tablets daily (maximum 4 tablets daily).
…. a pragmatic treatment for the black hypertensive through controlled diuresis.
Other Products