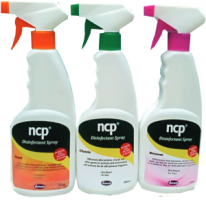 NCP DISINFECTANT SPRAY* – Disinfectant for surface application and Environmental spray
Effectively kills bacteria, viruses, and other germs on surfaces and environments and enlivens the air with pleasant fragrance. Doubles as an air-freshener.
Store below 30*c. Highly inflammable. Keep away from fire and flame.
In case of contact with eyes, flush out thoroughly with water.
Eliminates 99.99% of germs on surfaces and environments.
Powerful germ-killing profile (formulated with two germ-killing factors).
Non-bleach.
No stain.
Can also be used as a hand sanitiser.
Acts as an air freshener and Disinfectant.
Promotes effective germ control.
High quality.
Affordable.
Directions
Turn nozzle to ON position and spray
For surfaces, wipe over with a clean cloth and allow to dry.
FOR EXTERNAL USE ONLY
Other Products