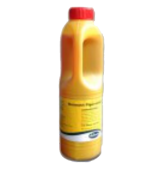 Piperazine is a liquid brand of worm expeller for swine and poultry.
Roundworms of poultry and swine (Ascaridia galli and Ascardia suum).
Nodular worms of swine.
Miscellaneous anthelmintic with potent action against roudworms.
Presents as pure piperazine base in liquid bottles (900ml).
Completely expels roundworms in poultry and swine.
Easy administration since it is completely soluble in water.
Directions
30ml/45kg bw-Pigs.
30ml/1,000 Birds – Broilers less than 6 weeks.
60ml/1,000 Birds – Turkeys/Pullets/Broilers 6 weeks old.
….deworm with ease.
Other Products