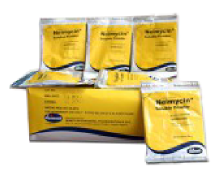 Neomycin Soluble powder is an antibiotic with Oxytetracycline as its constituent.
Calf diarrhea.
Scours in pigments.
Collibacillosis in poultry
Chronic respiratory disease in poultry.
Highly potent broad spectrum antibiotic.
Presents as highly soluble powder.
Used to treat and prevent infections associated with foot and mouth diseases in cattle, chronic respiratory disease in birds and bacillary diarrhea in piglets.
Easy to reconstitute and administer.
Directions
Prevent -5g/8L of water.
Treatment-5g/4L of water.
Or as directed by a veterinarian.
….. protects In many more ways.
Other Products