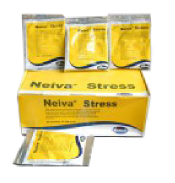 Neiva* Stress is a combination of essential vitamins.
Cases of heat stress.
Nutritional deficiency diseases.
Post vaccination stress.
Recovery from the treatment of infections
Brooding of day old chicks for rapid weight gain.
Improvement of egg lay.
High concentration of B vitamins.
Vitamin K activity.
Improves nutrition and nerve functions in animals.
Prevents heamorrhage and boosts immunity.
Directions
1 pack/100l of water or as directed by a veterinarian.
…. easing stress for bigger profits.
Other Products